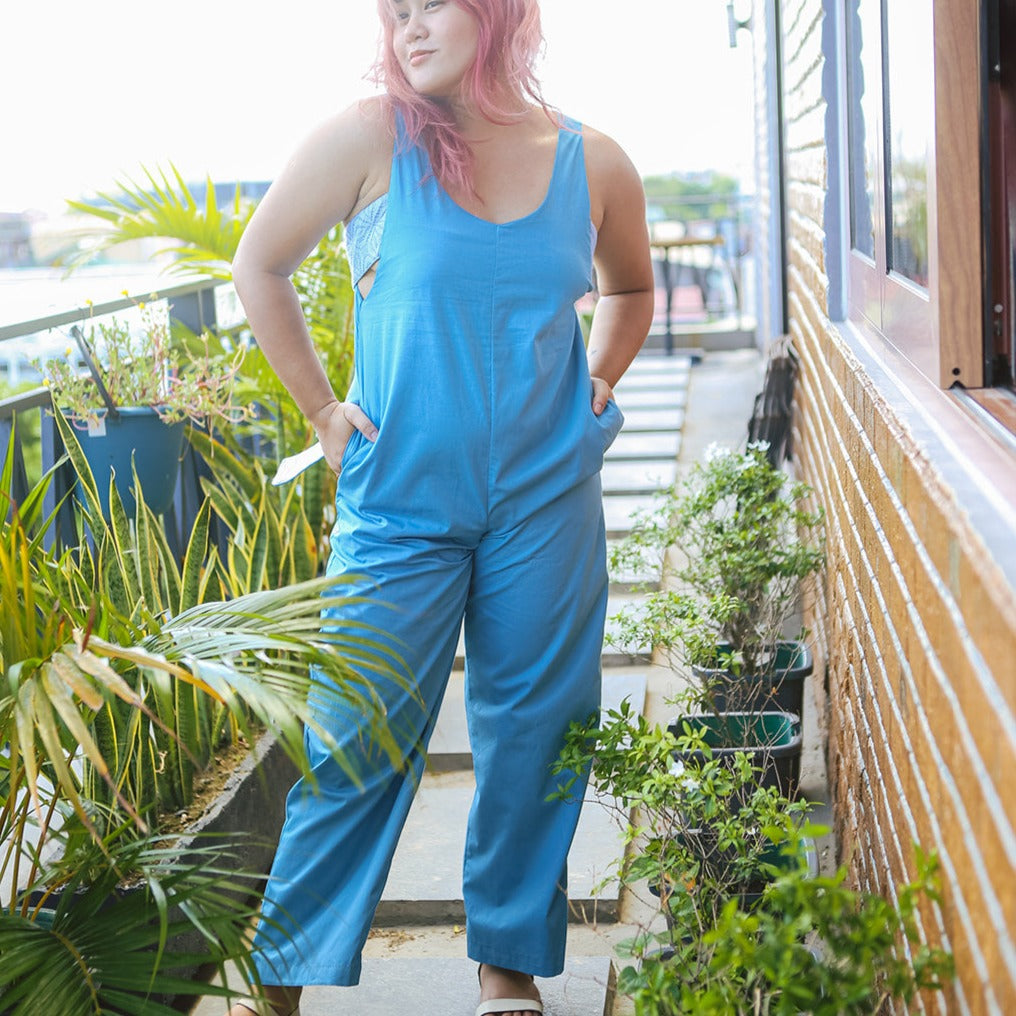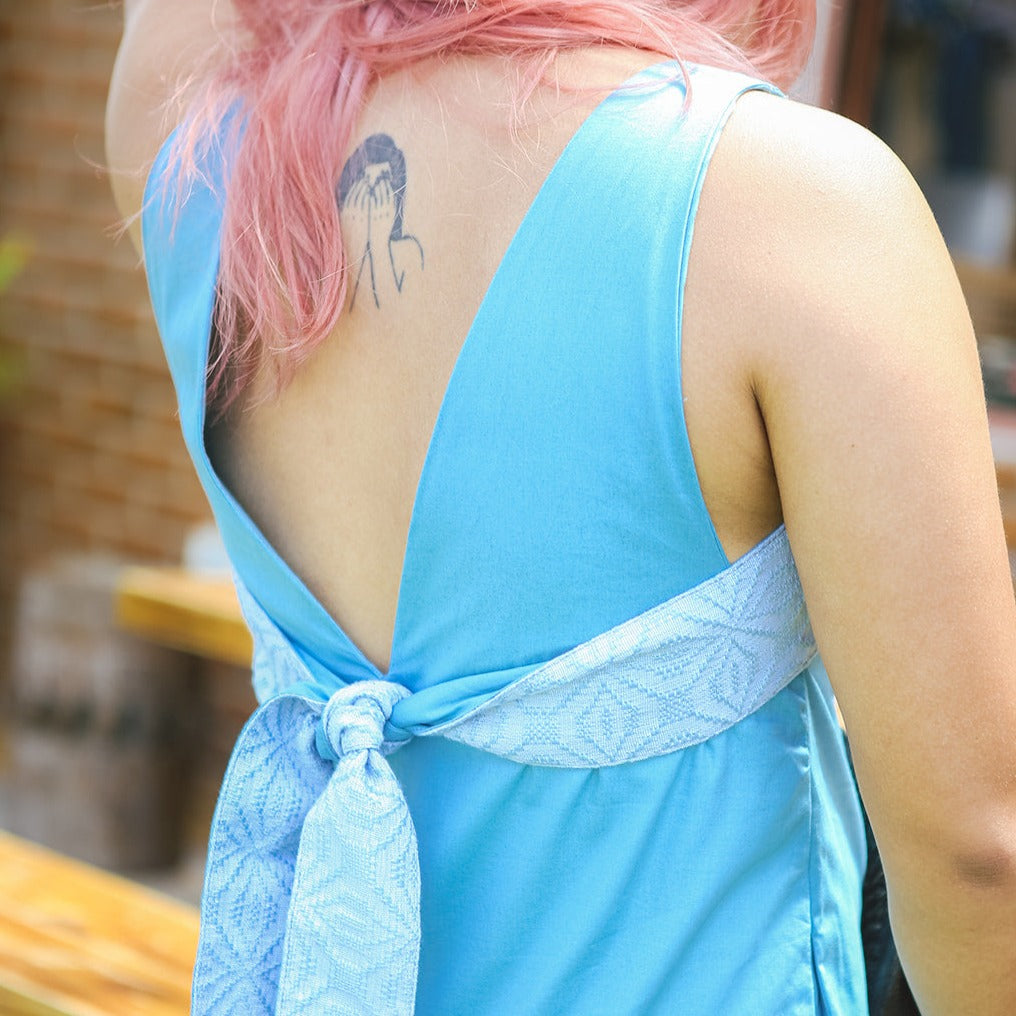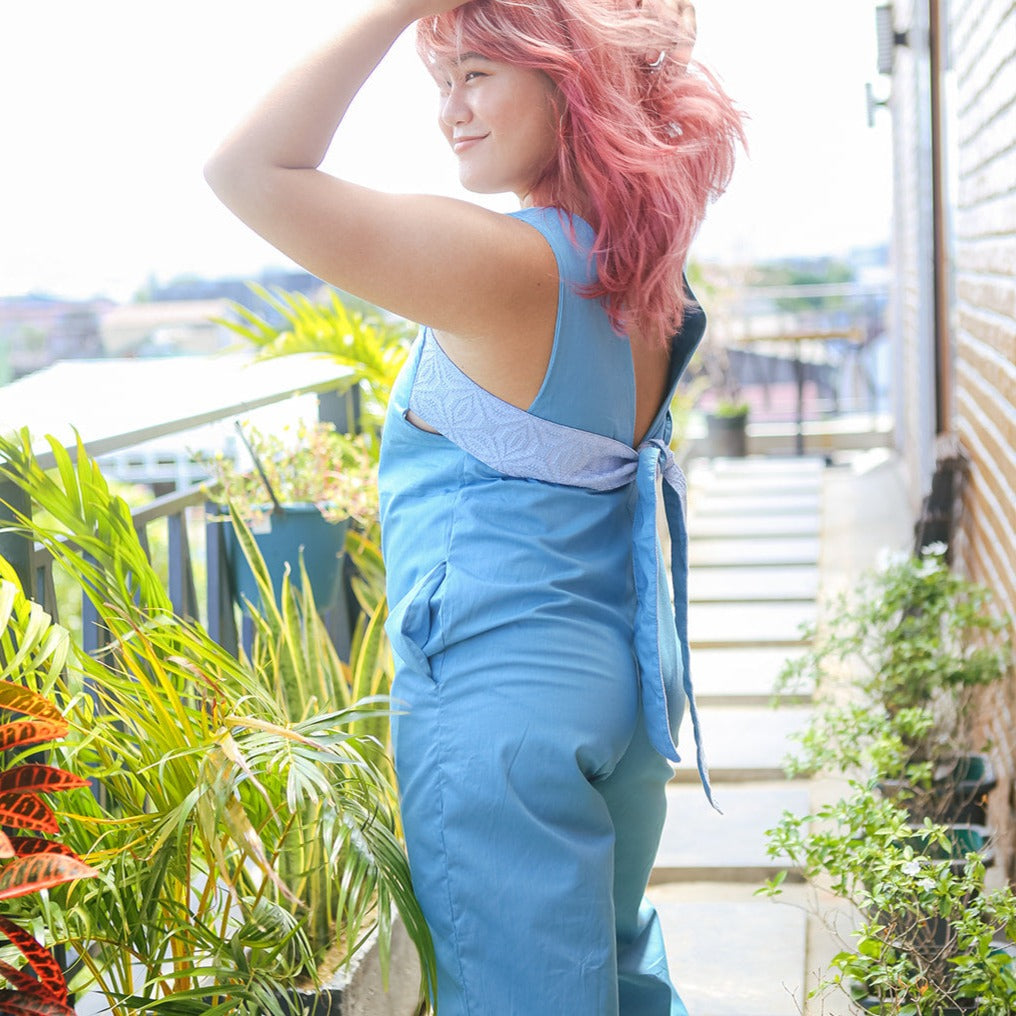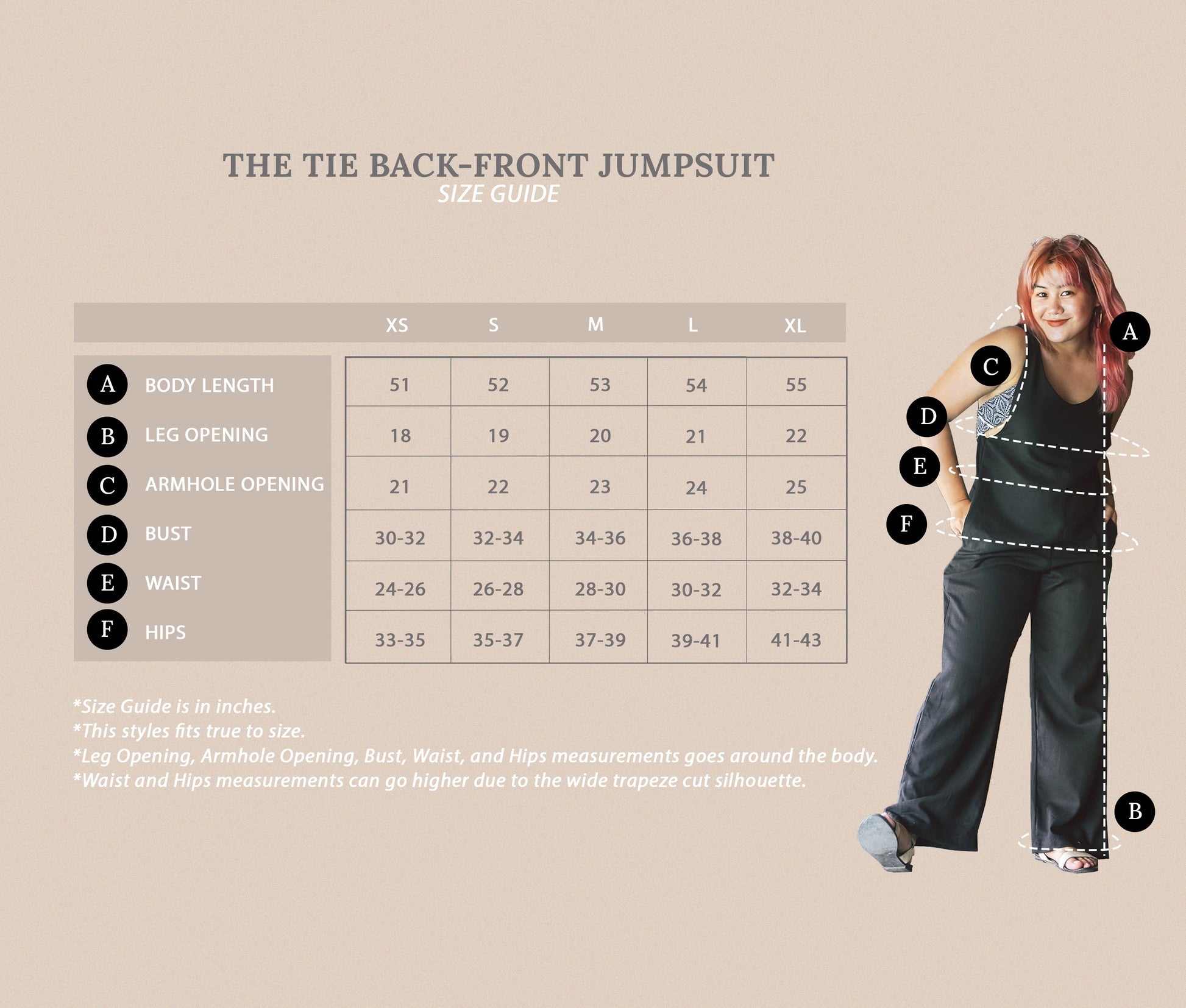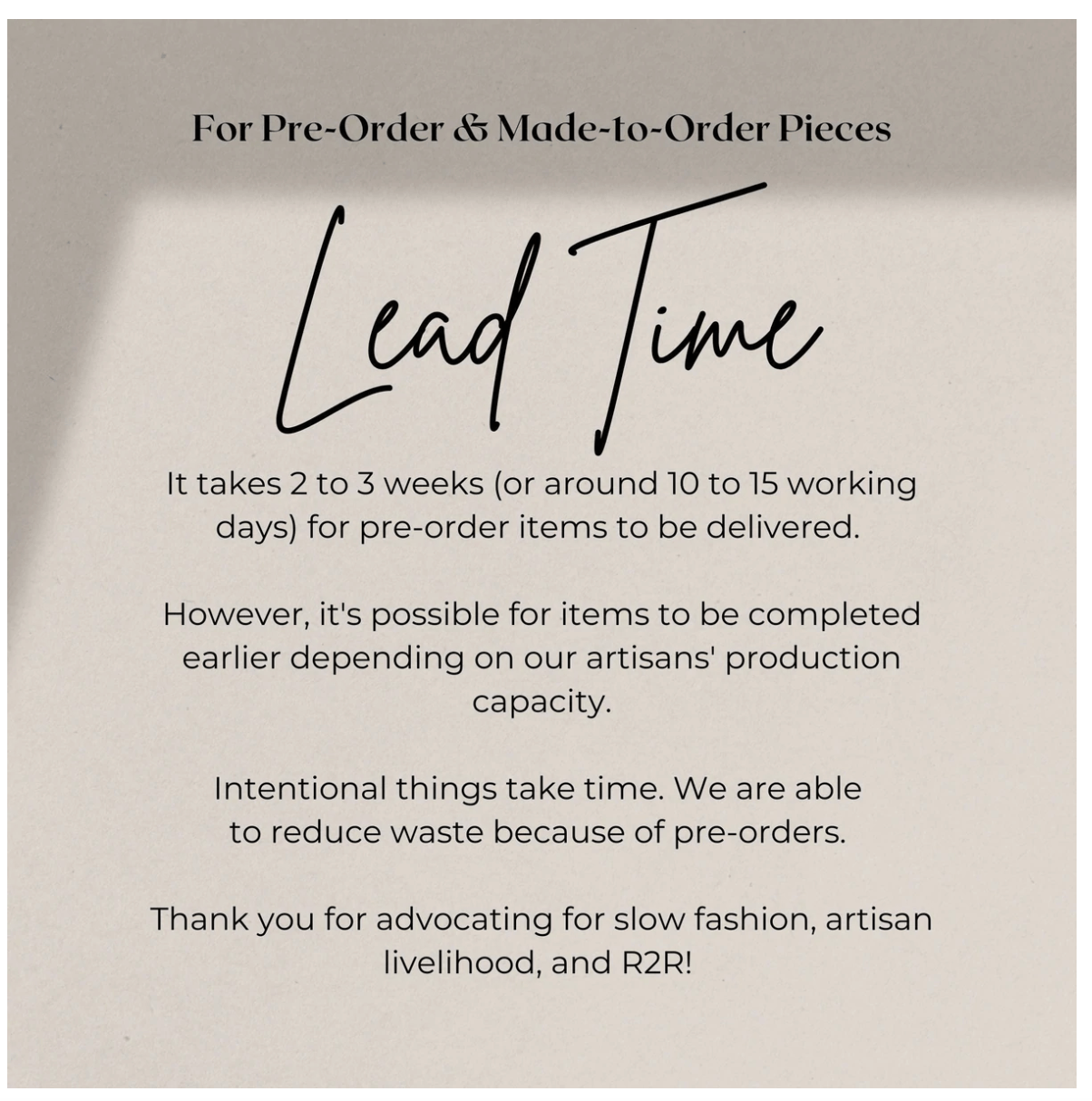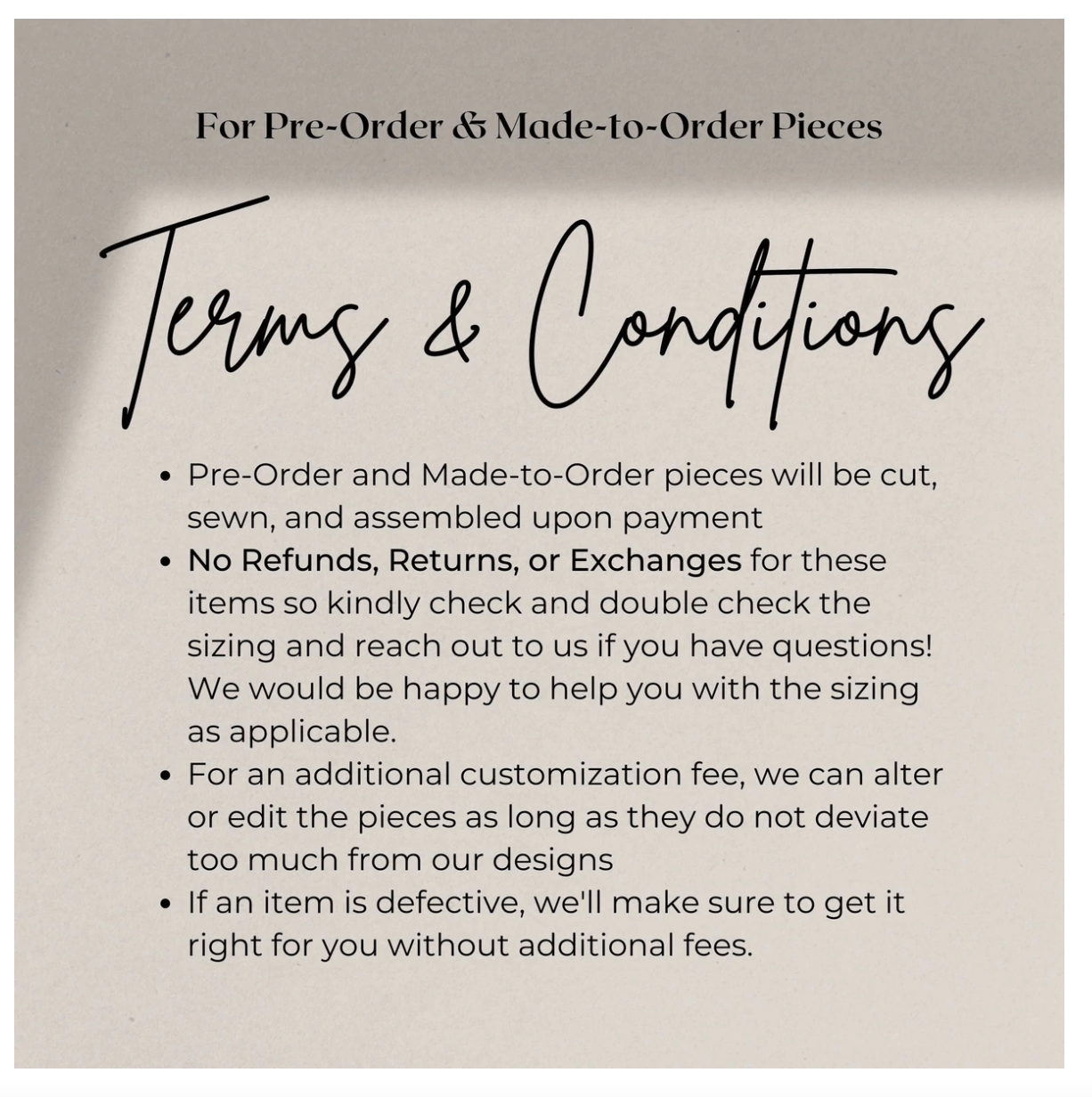 [Pre-Order 2-4 weeks] The Tie Back-Front Jumpsuit Chambray Blue
Regular price
PHP 2,350.00
Sale price
PHP 2,350.00
Regular price
Tax included.
An easy-to-wear trapeze-cut jumpsuit with a deep armhole and neckline, secret pockets, and tie straps to secure the sides. It has a wide neckline on one side and a deep v-neckline on the other (and you can wear any of the sides as front or back), perfect for styling and layering.
For other colors of this style, check here. 
Made with cotton-blend plus Binetwagan fabric.
Comes with secret pockets and tie straps to secure the sides, a deep armhole and wide neckline at the front, and a deep v-neckline at the back.
Patty, our model, is wearing Medium. This style fits true to size. 
X-SMALL

Body length: 51"
Leg opening circumference: 18"
Armhole circumference: 21"
Bust: 30 to 32"
Waist: 24 to 26"
Hips: 33 to 35"
SMALL

Body length: 52"
Leg opening circumference: 19"
Armhole circumference: 22"
Bust: 32 to 34"
Waist: 26 to 28"
Hips: 35 to 37"
MEDIUM

Body length: 53"
Leg opening circumference: 20"
Armhole circumference: 23"
Bust: 34 to 36"
Waist: 28 to 30"
Hips: 37 to 39"
LARGE

Body length: 54"
Leg opening circumference: 21"
Armhole circumference: 24"
Bust: 36 to 38"
Waist: 30 to 32"
Hips: 39 to 41"
X-LARGE

Body length: 55"
Leg opening circumference: 22"
Armhole circumference: 25"
Bust: 38 to 40"
Waist: 32 to 34"
Hips: 41 to 43"
This piece is for pre-order only, to be delivered according to the stated pre-order timeline. However, it's possible for items to be completed earlier depending on our artisans' production capacity.
Intentional things take time. We are able to reduce waste because of pre-orders. Thank you for advocating for slow fashion, artisan livelihood, and R2R!
Terms & Conditions
Pre-Order and Made-to-Order pieces will be cut, sewn, and assembled upon payment.

Only fully paid pre-orders will be processed

No refunds, returns, or exchanges

for these items so kindly check and double check the sizing and reach out to us if you have questions! We would be happy to help you with the sizing as applicable.

For an additional customization fee, we can alter or edit the pieces as long as they do not deviate too much from our designs.

If an item is defective, we'll make sure to get it right for you without additional fees.
To learn more, read our guidelines for pre-orders on our FAQ page.
Hand wash with care using mild detergent and room temperature or cold water. Do not wring. Air dry only.
Payment & shipping
We accept: PayPal, Credit Card, Debit Card, GCash, or BPI Bank Deposit
For details on our various shipping and pick-up options, visit this page
Other things to note
We use textile waste and deadstock fabric to create many of our pieces. As such, the colors of the actual product may slightly differ in tint, tone, or shade from what you see on the screen. We strive to source for the closest color matches that you can see on screen, but screen images are intended as a guide only and should not be regarded as absolutely correct.
For more questions, please check our FAQ page
We accept requests for customized and made-to-order versions of our existing bags, clothes, and home accessories designs.
Customization scope:
Size (for clothes only)

Color of fabric (subject to availability)

Color of leather (for bags; subject to availability)

Minor add-ons or adjustments (subject to approval)
Not included in the scope: Significant changes from the original designs will not be accepted. This customization is for individual orders only. For wholesale or corporate orders, kindly contact us at yourfriends@rags2riches.ph.
Important note: Strictly no refunds, exchanges, nor returns for customized items.
Lead time: Between five (5) to 20 days, depending on the availability of materials. If your product is already for pre-order, the lead time will follow the pre-order lead time.
Customization fee:
For bags or clothes:

Php 450

For home:

for quotation
The customization fee will be charged on top of the standard price of the item.
Ready to customize your own R2R piece? Get in touch with us HERE.