Blog
Thank you, 2021! Hello, 2022!
by Reese Fernandez-Ruiz on Jan 06, 2022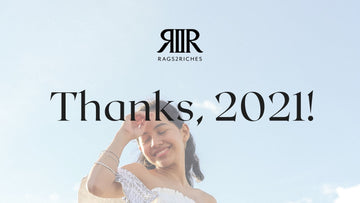 Fourteen things we're grateful for on our fourteenth year
Last November 2021, we turned fourteen - a humble milestone reached through a crazy and joyful ride, and made possible by each of you. This year has been many things. It has been unpredictable, alarming, exciting, inspiring, and everything in between. It was tough, it still is, but we are as always, still drawing silver linings. Here are some of the many things that we're thankful for: 
1. Surviving the pandemic
While the pandemic still isn't over, we are thankful that we are surviving it together. Last 2021, we were able to keep each other safe while keeping artisan livelihood going. And while we are not putting our guards down, we are raising our hopes up. 
2. Our new collections
Even with the whirlwind of a year, we're proud to have produced collections that we glad you loved and hope to continue to love. From Roots to Better Basics to Androgyne to our Holiday collection, we enjoy each bit of creating multi-way pieces that help you feel and become your best selves. 
3. Our classic products
We're thrilled to see that the pieces you've had for years continue to accompany you in the stories you create and live. We are serious about creating durable pieces that will allow you to maximize the life of each R2R piece and that spark joy for a very long time.
4. Our artisans
The deepest of our whys include opening opportunities and keeping them open for our artisans. We are grateful to provide them livelihood as much as we are grateful to and for them - for the hard work and dedication they bring, for allowing us to be part of their story, and for not just making the work worthwhile, but deepening our purpose every single day. 
5. Our team
The same goes for our wider R2R team who works in different parts of the business - design, sales, admin and finance, and more. It's true, what they say, that it takes a village, and we love that ours is made up of driven, talented, and loving individuals who share in our mission.
6. Our communities
It's exciting to see that there are more and more social enterprises and local businesses that hope to instill a more mindful and conscientious lifestyle in Filipinos. What makes us happier is that many of them have become our friends, and the supportiveness between and among these businesses that allow all of us to grow and contribute together.
7. Our partnerships
Fourteen years wouldn't have been possible if not for the individuals and brands who believe in what we do and help amplify our messages. There are a lot to mention, but they all know that we are giddy and proud to have worked and continue to work with them. For the past two years, we have been in partnership with the Work Together Foundation under the Smile Together Partnership. Through their support, we were able to provide school supplies, internet access, urban gardening kits, and many more to our artisan communities.
Most recently, our partnership with Globe Telecom Globe Platinum allows us to contribute to a child's future while continuing to provide opportunities for our community of artisans. 
8. Another new home
Another recent update was a relationship we've been building for quite a while. As the sewing partner of the recently opened IKEA Philippines, we get to create and sustain livelihood for more artisans - which you already know is something that fills our cup with gratitude.
9. The lessons
Needless to say that getting to this point hasn't been the easiest thing we've done. We would like to believe that each bump in the road has taught us something that will allow us to know better and do better for all that is to come, both the good and not-so-good.
10. The gift of hope
We've seen many things since we started R2R, but not a lot of them could equate to the hope that a lot of us have for our country today. We are fired up to do what we can to help create a better tomorrow, as we look forward to better governance and a stronger Philippines.
11. The opportunity to serve
We're humbled with the recognition that we do allow us to sustain livelihood, showcase local craftsmanship, and promote intentional living. We feel blessed to have an opportunity to do little things that make a difference in the lives of our advocates.
12. All the things that matter
More than the Things That Matter that allow us to live a little bit more intentionally everyday are things that cannot be seen and matter a little bit more, such as the company of great colleagues, the steadfast support of family, the continuous cheering on of friends, and the purpose that makes everyday worth looking forward to.
13. You, our advocates
Of course, as cheesy as it sounds, we wouldn't be here if not for you - our advocates, both old and new, who inspire us to keep creating, dreaming, and moving forward. With every order, review, message, feedback, photo, word of encouragement, and interaction, you remind us of the joyful community that we're lucky to be sharing this journey with. Thank YOU for empowering us to do what we do. 
We totally felt your love and support this year! You pre-ordered more than 680 clothes and bags from our pre-order collections. We also shipped more than 5,000 joyfully made pieces to you last 2021! Aside from all these, we also got to deliver over 12,000 pieces of items to our corporate and international partners. 
Thank you, Advocates!
by reese.fernandez 
14. The next chapters of our story
Though what happens in the next fourteen or 140 years is unknown, what we know for sure is that we will keep working hard to continue growing what we've built in the last fourteen years and hope you continue to join us. We look forward to weaving many more joyful stories with you! 
Article written by: Meryl Ligunas