Blog
Meet the First R2R Bride & Peek Into an R2R Woman's Wedding
by Audrey Mae Ferriol on Mar 27, 2016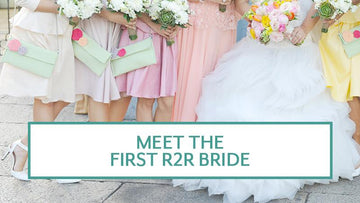 A new year always calls for new adventures – and boy, did the R2R Team jump into an exciting one this 2016!
Last January, we beta launched R2R Bespoke, our made-to-order service for your most special life events: weddings, debuts, baptisms, and more! This is a huge milestone for us and we are super grateful because this new line paves the way for more of our amazing artisans to get access to markets. Aside from this, we get to be part of one of the most important days in our advocates' lives and nothing is more exciting than that!

The first important day we participated in was the wedding of one of our best advocates, Mary Pilares-Parafina, last January 16, 2016. We'd love you to meet our first R2R bride and how her wedding came to be.


Mary and her love affair with social enterprises and small businesses
We met Mary at the most opportune time! When we were looking for brides-to-be who can join our beta testing, there was Mary who wanted a wedding that's just not a party, but a meaningful celebration that represents both her and her husband Don as a couple. Don is an advocate of social accountability while Mary has long been a supporter of micro and social enterprises that help empower small business owners, local farmers, and manufacturers who give equal opportunity to their workers.
"My parents reared us to always consider the welfare or others, not just ourselves. In running a business, big or small, if everyone is fairly compensated, they work as your partners in running your business. This is something I have always admired about social enterprises. It's not just about running a business but creating better opportunities for more people."
Most of Don and Mary's wedding souvenirs are from social enterprises like Human Nature, Theo & Philo, and Bo's Coffee. A friend of Mary's, Ria Pascual, runs a bakery called Pan Casero who makes artisan bread. This is where she bought raisin loaf rings to give to the principal sponsors. It was paired with Mangosteen wine produced by a local Mangosteen grower from Leyte and bottled by another company who is still in the process of reviving their plantation that was devastated by Typhoon Yolanda.
In line with her desire to support small, local businesses, most of Mary's suppliers are micro enterprises as well. Her wedding cake was made by their friend Thea Bull, who bakes at home and runs Sugar Cravings by Thea. Her bridal shoes, on the other hand, were proudly Marikina-made!
As a supporter of sustainability, Mary did a lot of DIY, too! She shared, "The bridesmaid headdresses come from recycled artificial flowers. The flower girls wore this giant rose headdress which I also made with leftover tulle, bird feathers I picked from our farm birds, and leftover materials from their dresses."
Why she decided to partner with R2R for her big day
It started when Don gave Mary a
Benwu tote
on their first year as a couple. Mary said, "I really liked the bag and I admired the craftsmanship of the bag. I bought a
Buslo
and
Buslo Mini
after that and the rest is history!"
Mary loves that R2R bags come in so many colors that can match your entire wardrobe so when she was thinking of a gift to give to her entourage that is both practical and something they can enjoy for a very long time, she thought of a purse.
"But I don't want just anything that you can buy at a mall, I want it to be personal and special so I asked the wonderful people of R2R if this is something that they can do and I was ecstatic when they invited me to discuss the design I have in mind."
She even had leftover fabrics from the bridesmaids dresses which she gave to us to use for rosettes. "One of the themes we incorporated into our wedding is our favorite book, The Little Prince, and I thought about the ideas of rosettes to put in the purses and for the groom's entourage to wear, because of 'The Rose'."
Mary's custom-made R2R bridal collection acted as both accessories and gifts for her wedding entourage but her favorite is the bridal purse that we named after her, which you can see below.


"I feel like it is a part of me now. I love the color! It held everything I ever needed on one of the best days of my life, and it sure can fit a lot of stuff! I had my cellphone, tissue, oil control film, lipstick, and rosary in it."

When Mary presented the R2R bags to the girls of her entourage, she wanted it to be a special moment. She inserted a letter in the dust bags for them and pinned their headdresses on the dust bag so it really looked like a present.
"Each one of my bridesmaids represented a part of my life. I have been through some really difficult times in my life and these are the ladies who have witnessed my tears and joys and through it all, they stood by my side," Mary said. "They listened to my sad and happy stories, laughed with and at me, and watched me cry and cried with me. And this is one of those days when we shared happy tears together: when I gave them their R2R bag."
On the best part of her wedding
Weddings are one of the busiest days of a couple's lives and everything passes as a blur so we asked Mary what the most memorable part of her wedding is. Fifty years from now, what will be the moment she will remember the most?
"It's probably that moment when the church doors opened and I saw everyone looking at me. When I took my first few steps, my knees buckled then I saw my groom at the altar with tears of happiness! The choir was singing The Song of Ruth as I walked down the aisle and my life was flashing before me with each step. My parents walked me down the aisle and I couldn't help but cry because they told me that they have dreamed about this day for me. They only wished me happiness like any parent would."
"Many happy tears were shed but a bride who sees her very stoic groom crying happy tears is a memory she will hold dear forever," Mary finishes.


Her advice for brides-and-grooms-to-be
As a newly wed, she advises couples planning their wedding to just talk about it and make sure you are both happy with your choices!
"Every bride must be dreaming of the perfect wedding, but we aimed for a happy wedding, not a perfect one, and focused on why we're having that wedding in the first place."
Photos courtesy of Imaginenation.
For inquiries about R2R Bespoke, you may drop us a message at yourfriends@rags2riches.ph or call us at +63 2 281 3162.