Blog
Behind the Scenes of the Valore Collection: A Q&A with R2R's Lead Designer Chris
by Audrey Mae Ferriol on Apr 17, 2016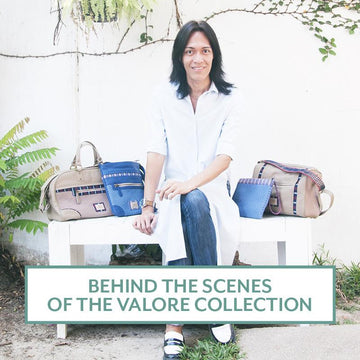 Our newest collection, Valore, carries a hefty weight of joyful stories and it reflects in its details. The bags were inspired by the duality in the lives of the Filipino diaspora. From the Italian leather to the indigenous fabric trimmings, each part is meant to represent the facets of our fellow Filipinos living in other parts of the world.
The meaningful story behind the Valore Collection is the brainchild of R2R's lead designer, Chris Cera. Allow us to take you through the design process of this newest collection, where he gets his inspiration to design R2R's artisanal bags, and what you can expect from R2R's upcoming collections.
1. Before anything else, tell us about yourself! What do you do in R2R?
I started designing bags on my last year of college 27 years ago. It happened rather by chance when our department chairman announced that his sister who had a manufacturing company was looking for student designers. Although I was taking up communications arts, I, along with a few others, submitted drawings. Mine got approved, prototyped, and eventually produced and sold. Everything I know about designing and making bags, I learned on the job. I haven't really stopped since, jumping from regular employment to freelancing for several export companies to having my own business.
Prior to R2R, I co-owned a manufacturing company that was its subcontractor. I quit that company in 2012 and R2R lost no time in asking me to do a three-month consultancy. That contract got extended. And I am now R2R's lead designer, designing its four major seasonal collections as well as all the in-betweens. I supervise sample-making and everything else that's involved in product making.
2. How do you usually get inspiration for the bags you design?
The inspiration for all past collections always related to the panels woven by our R2R artisans. They may have been trends but they ultimately needed to look right when adapted to the woven panel which is the core, the soul of every R2R bag.
For my very first collection ("Newel" of Spring/Summer 2013), I combined the indigenous material T'nalak with the woven panel. It was a way of injecting more dimension to the look, consequently featuring the rich heritage and inherent beauty of Philippine woven fabrics. This combination then became some sort of a staple, tapping one weaving community to the next with each new collection.
For me, the R2R aesthetic has a global vibe but is still very rooted in the aspirations, modernity and practicality of our advocates.
3. What is your inspiration for the Valore Collection?
I was fortunate R2R gave me an opportunity to go on a work trip to the US in March 2015. I took the chance to use some time off to visit family and friends who have been based there for many years. I divided my time to be able to spend time with them, specifically four women whom I stayed with for a couple of days each. Those were days full of catching up, laughing, eating, sight-seeing, talking about life. Although deeply moved by the experience, I didn't know it was going to be the inspiration behind this new collection.

There is, somehow, something common in all of humanity. We all find ourselves taking or choosing a path in life. There are places to explore and dreams to fulfill. And as we go through this endless road, we collect tales to tell along the way that get woven into the fibers of our being. There are ties that bind us forever, regardless of time and distance. And all this, I felt, were what these four women chose to take. Not for themselves alone but largely, more importantly, for their families.
Such is the story of thousands of other Filipinos who leave the comfort and familiarity of homeland to secure a better future for their children. The sacrifice of hard work and homesickness are a small price to pay so that their loved ones will hopefully not have to live a hard life and build their own happy homes.
I knew I was never quite the same after that trip. And I had this deep desire to express that sentiment into something more tangible. But how do you turn something that's visceral to something that's visual?
First, I had to think of the most basic core value of this experience: relationship. Second, I had to equate it with something that related to me the most: friendship. Next, I had to represent that with something that can be physically grasped: friendship band! That was the basic concept around which the collection started to take shape.
4. Describe each detail and material and what it means for you
I got excited about using waxed cord and knotting it to resemble a friendship band because of what it represented and it was something artisanal that we've never done before. I imagined it to be incorporated as bag straps and zipper pullers. I also thought of using soft and supple Italian leather in large part and not merely as trims like we've always done before.
I picked indigenous fabrics beautifully woven from the Mangyan tribe and Benguet Province. And while deciding to use premium Italian leather, I thought we might as well use jersey fabric for the woven panel that's a bit shiny, less dirt-prone and more pilling-free.
The four women that inspired the collection have all adapted, in large part, to the American way of life and thinking. That is represented by the Italian leather. And yet, at the core they are still very much Filipino by being warm, accommodating, resilient and happy. This is represented by the indigenous fabric that serves as accent trims on the bags, underneath the leather, seemingly peeking but is never hidden. It is the Filipino that gives color, vibrancy, excitement and joy wherever they may be. And the waxed cord knotting is, of course, the ties that bind friends and family.
5. Why is this collection special? What makes it different from everything else you have done before?
This collection is, by far, the most personal I've designed to date. It was also rather difficult because I'm emotionally attached to it so I felt a strong sense to make it the best and protect it. I almost didn't want to compromise on changing some of the details. But like any baby, I needed to let it go into the world where other people can influence it for the better. It's the first time we're using Italian leather. And although I knew the price points would be higher than usual, I was confident the bags would have better form, be more durable and long-lasting.
There was also the intention of making the bags more suited to urban use. Although they have classic silhouettes, the overall look is not common and possess a distinct character. Think of it as your go-to leather bag like any other leather bag perhaps, except it's artisanal, sustainable and meaningful.
6. What is your favorite part of the Valore Collection?
It's definitely the story that propelled its concept and design.

7. What was the most challenging part of creating the Valore Collection?
Because the inspiration was so personal to me, all the details needed to make sense and come together. I almost didn't want to let go of a few details that others in the team thought would not work. Cost was also a concern since we used
Italian leather
in big parts and jersey fabric for the woven panels so prices would definitely be much higher than usual. In the end, I was very happy with how the bags turned out.
8. Can you tell us more about the story of each of the four women you were inspired by for this collection?
They are Nora del Rosario and Norin Thomson, both of whom I worked with in the past and became very close friends; Marie Cera is my sister-in-law and Mary Ann Bertumen, who happens to be her sister, was my classmate in primary school.
They all moved to the USA with one goal: seek better opportunities and secure a brighter future for they families. They are all strong-willed, hard-working and kind. They are Americans in their frankness and practicality but very much Filipino in their warmth, in welcoming me in their homes and in their joy despite the odds.

9. Describe the R2R woman carrying this collection
The R2R woman is relentless in pursuing a better, more meaningful and joyful life.
She makes intelligent choices that affect not only her fashion arsenal but also with a consciousness that these choices play into a bigger scheme of things. She values eco-ethical products and supports conscientious commerce. But she does not compromise on aesthetic worth and good quality. She also wants to look her best while fulfilling her many roles as wife, mother, daughter, professional, student, friend, mindful fashionista, advocate. And above all, she just wants to have fun and be joyful. This collection, designed and done with special attention to both form and function, is dedicated to her.
10. Coming from the Valore Collection, what can our advocates expect from the next collections of R2R?
I always feel, after doing a collection, a certain sense of dread. How do I top this one? But the world keeps spinning and inspirations abound. I don't need to look far. The motivation, I know, comes from my deep love for R2R.
My desire is for R2R to grow by leaps and bounds because it has the greatest cause for existing. When I think about how to innovate, I know that what this process will eventually accomplish is bring joy to our A-team, artisans, and advocates.