Blog
R2R is a 2015 Eileen Fisher NY Women-Owned Business Grantee
by Audrey Mae Ferriol on Nov 23, 2015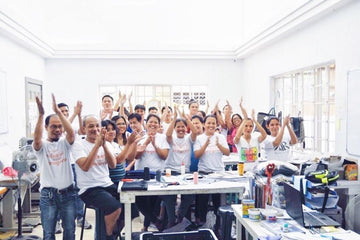 Rags2Riches, Inc. (R2R), a fashion and design house and for-profit social enterprise from the Philippines, is a 2015 Eileen Fisher NY Women-Owned Business Grantee. Along with four other women-run enterprises, we will be awarded a monetary grant to further our efforts in our urban communities. What makes this recognition extra special? R2R is the first organization in Asia – and outside the US and Canada, for that matter – to win the grant! This makes us so happy and honored.
Eileen Fisher is a fashion line from New York with a mission to empower women through the clothes they design and the grants they've been awarding to women-led, socially and environmentally-conscious companies for 11 years. For Eileen Fisher, a business is a movement. "I like the idea that a company can be successful as a business and also as an agent of positive change," she said on their website.
Rags2Riches CEO and co-founder Reese Fernandez-Ruiz is honored to be recognized by Eileen Fisher. "It's a brand that we resonate with so much, especially in terms of values," she said. "Our dream is to be a platform for artisans to get out of poverty and we can do that well through expanding our market reach. We are so excited because R2R is going places and getting a lot of love from people around and outside the Philippines!"
As Reese said, we've made it our primary goal to give women from poor, urban communities the opportunity to thrive and escape poverty and we've been doing this for 8 years now. We do this by eliminating the middlemen and giving fair wages to the artisans who create our handwoven and eco-ethical fashion and home accessories.
We also empower by being both a life and livelihood partner to the artisans through our Artisan Academy and Quality of Life Program, where the artisans hone their skills and get health and financial training. All of this is to fulfill our vision that one day, a Filipino born in poverty will not have to live in poverty.
Check out the other amazing 2015 Eileen Fisher Women-Owned Business Grantees: Isidore Electronics Recycling, Laurel Environmental Group, OlyKraut, and Upohar.