Blog
R2R Launches the Medina Collection for F/H 2016
by Audrey Mae Ferriol on Sep 23, 2016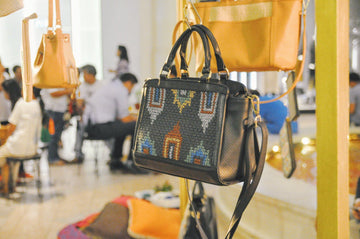 Last September 20, we launched our collection for Fall/Holiday 2016, the Medina Collection, at South Court, Power Plant Mall. This newest collection features classic silhouettes in the two colors mocha and charcoal gray, custom perforated leather, and unique, embroidered patterns that were carefully hand-stitched onto our signature weave by the R2R artisans, taking at most 12 hours to finish each.
These designs were inspired by the unique structures found in the medinas in Morocco and other cities in North Africa and they reflect the values of community that R2R is building until today. 
In all of its vibrant colors, busy streets, and surprising corners, a medina is a place of gathering. Artisan stalls and shops, historic fountains and monuments, and even homes and schools form this walled quarter that locals and tourists alike flock to.
For the launch, we invited friends and R2R advocates to see the bags as we unveil them for the first time. Our artisans were also there to teach our guests how to embroider their own coasters.
"Our R2R community is not just comprised of artisans. We are a community of artisans, advocates, partners, designers, and all-around-inspiring people," says Reese Fernandez-Ruiz, co-founder and president of Rags2Riches. "Each piece in the Medina Collection tells the stories of our community through art, and this is why we are all very excited for it! It is quite literally, art you can wear and art that can inspire you as it has inspired us."
In this new collection, we celebrate the different parts that build a community. Like how a medina is structurally designed to be communal, our communities are composed of people with varying backgrounds and talents. Each one has a joyful story to tell and a unique role to play in the pursuit of common goals and dreams.
1 comment