Blog
Recap: MYO Workshop and Open House Last June 25-26
by Audrey Mae Ferriol on Jul 03, 2016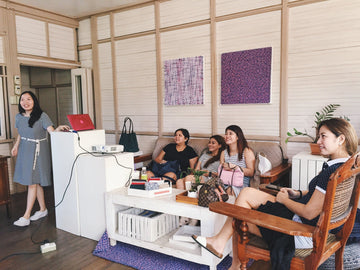 Last June 25-26, 2016, we opened the doors to our new HQ and workshop in Quezon City. It's the first time we've let our advocates have a behind-the-scenes look at what goes on in our workshop and have them actually participate in the bag-making process with our workshop artisans.
Here are the things that our advocates experienced during the exclusive workshop and open house:
1. A peek into the history and workings of R2R
The first activity for the day was meant to fully immerse our advocates in what R2R is. We presented to them R2R's humble beginnings from eight years ago to an explanation of what we do as a social enterprise. This was done by our president and co-founder, Reese, together with our mentor artisans, Ate Cynthia, Ate Nhing, and Kuya Ricky.
2. The workshop and HQ tour 
Next, our advocates got to see where all our bags and home accents are assembled and met some of the workshop artisans who were present. In addition to that, the advocates got 20% off the purchases they made at our showroom.
3. A make-your-own Buslo or Barco
The advocates got to design their own Buslo or Barco, picking from our roster of classic colors or the exclusive rare prints for the month of July. They watched their bag of choice get assembled by our workshop artisans. Their bag also comes with a customized leather-stamped tag that has their initials on it and a canvas tote as their shopping bag!
4. A weaving workshop 
Our mentor artisans were there to teach everyone how to weave their own drop-in purse. We even had a special workshop for kids, where they got to play with fabric pens to decorate their purses.
5. Food and drinks from our partners
Bayani Brew, Bo's Coffee, and Merry Macarons were there to give the advocates refreshments while they wove their own purses. Thank you to them for fueling our advocates with yummy and energy-giving drinks and snacks!
Thank you as well to our media partner, WheninManila.com, for empowering this event.
5 comments