Blog
The Story of R2R in North America
by Reese Fernandez-Ruiz on Apr 15, 2021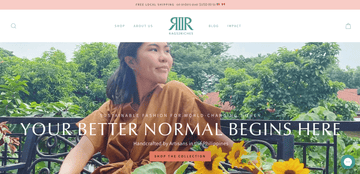 Did you know that we launched our North America online store last October 2020? Yes, in the middle of a pandemic, while we were on lockdown and just coordinating with each other virtually! This is the quick lowdown of why we did it and how it happened.
The WHYs
If you have been with us for quite some time now (or even just for a minute), you'll know that we share our WHY every chance we get. So here they are again!
The short-term WHY
This may not be new or surprising anymore but we feel this truth in our bones: This whole pandemic has been a huge challenge especially for small businesses like ours. We had to fight with everything we have to keep our team and artisans safe while keeping the business going because keeping the business going keeps livelihood going.
One of the things we thought of doing last year is to expand our market and generate more sales to generate more livelihood. Launching our online store in North America was, to be blunt, one of our survival strategies.
The deeper WHY
We have always wanted to expand our market especially in the countries where we have lots of potential advocates and Filipinos who are looking for products that remind them of their heritage. We love getting to know more advocates and being part of each other's lives!
The ultimate WHY
We are here for the long haul because our whole mission is to open opportunities––and keep them open!––for artisans from local communities in the Philippines. We have to live a long life because livelihood needs to be reliable to truly make a difference.
How it Happened
It really started years ago actually when we met the awesome couple behind Cambio & Co, Gelaine Santiago and Jerome Gagnon-Voyer. Out of all the potential partners from North America that approached us and started working with us, they were the ones who stayed and did the hard work of collaborating with us through time and distance barriers. It was like we found our social enterprise soul mate.
For the past few years, Cambio & Co was the go-to online store (and it still is!) when you want to buy an R2R piece in North America. Then about a year or so ago, probably a few months before the pandemic started, we started talking about launching R2R's own online shop in North America together with Cambio & Co as our official partner.
We did not have a clear timeline then, but got the timeline down and settled during the lockdowns no less. The pandemic just accelerated the expansion that we have been wanting to do anyway. So yeah, that is a sliver of a silver lining right there and we could not imagine better partners than Gelaine, Jerome, and the Cambio & Co team!
Since you are here, we want to ask for a favor. You may have friends and family in North America who may love an R2R piece or two. We would be grateful if you can share this article with them or share the link to our North America online store, R2RShop.com.
R2RShop.com currently has most of our best-loved items that we have in our local R2R online store and we'll be constantly stocking it up with more. We are also coming up with exclusive collections just for our North America advocates—something exciting to look forward to!
P.S. A quick note about our pricing and product selection: We priced the products in R2RShop.com in a way that already considers the shipment of our stocks to Canada (trust us, shipping individual items from the Philippines is... shocking), packaging, duties, marketing, and other costs. The USD prices you can see in R2RShop.com are the values of the products considering the time, effort, and costs to get them there.