Blog
The Women of Valore: Coco Cruz
by Audrey Mae Ferriol on Apr 24, 2016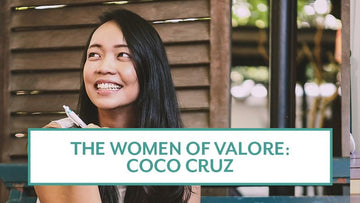 In our first Women of Valore feature with Issa Cuevas-Santos, we've talked about how important it is to live a life of values, intention, and meaning. We're all about valuing the things that matter and the people who fill our lives with so much love and joy – our families and friends and the simple moments we have with them. 
We're very lucky to be surrounded by awesome people who believe in the same sentiment and they're changing the world, not by compromising their values and the things they value, but by holding strongly onto them! For the Valore Collection, we've picked three of them to be advocates — all fitting women to represent this collection's meaningful story.
We're honored for you to meet and be inspired by them! Read about the second of our three R2R advocates for the Valore Collection: Coco Cruz.
Coco has been with Gawad Kalinga since 2005, first discovering mission work through GK-Ateneo's Team Gabaldon. She has then been involved with various social work/activities, and more recently businesses that help uplift the lives of the poor. Aside from Plush and Play, she is also a co-founder of Joomajam, a social enterprise that makes learning fun through music and is currently part of her family's manufacturing business.
More importantly, she's mother to Sining and Diwa and wife to Loleng (Mark Lawrence). Having two kids and a couple of nephews and nieces makes the Cruz household a small lab incubator for fun, educational, safe, and age-appropriate products for kids.
1. Women are multi-tasking and we wear so many hats so well! If you can make your own title-in-life (hyphenate away!) what would it be?
I've always thought about this one and would always want to use words like "mother by day, punk by night" or "global citizen of the world" or "always your happy customer" – because I love supporting local products – but at the end of the day, I guess I would always be your Filipina nation-builder. That's one hyphen!
2. What are your passions in life and why? You can talk about your company, organization, and advocacies!
I'm passionate about fighting poverty, especially in this country. There are so many creative ways in doing this and over the years, strategies might have changed but the core would always be the same. We have a paradise for a country and if we can just bridge the gap and bring people just a little bit closer to each other – to care more for others and less for self, then that would be bliss.
Currently, I'm involved with Joomajam and Plush and Play. Both are social businesses that aim to uplift lives of the poor and make learning fun for kids at the same time! I guess, the important thing for me is all bases should be covered – one cannot do without the other. I can't stop with just providing and making sure our kids get the best tools for learning without thinking of the 5M poorest of the poor Filipino kids who can't even get one decent meal a day. It's always a package deal for us. Our dreams are not just for our kids, it's for the entire next generation of Filipino kids.
Plush and Play is a social enterprise from the Gawad Kalinga: Enchanted Farm. It's a full line of veggie and fruit themed stuffed toys for kids and the kids at heart. It aims to provide sustainable livelihood to families in the country-side, highlighting the undervalued sewing skills of the nanays in the communities. At the same time, it teaches kids the importance of eating healthy – fruits and veggies are our friends! Riiiiiiight?
Also, may I add that I will forever be a Gawad Kalinga volunteer. It has taught me so much of what I hold true in my life and in whatever way I can contribute, I do, even to just be a supportive wife to a GK full-time worker.
On the other hand, Joomajam is an online platform that aims to make learning fun for kids! We have put together new, all original Filipino songs by OPM artists from different genres, with all songs having Filipino and English versions. (And soon in our local dialects!) We made videos for these songs and packaged it in an app to be enjoyed by Filipinos around the world. In the same light, we also want to reach kids and teachers from the far-flung provinces in the Philippines who have limited access to local learning tools. We believe in equipping them with support material to be able to make learning enjoyable for both the students and the teachers.
For as long as I can remember, I've also been a big fan of Filipino art and music. This land is overflowing with both talent and heart so in my own little way, I do my best to support and make sure it's kept alive. It dictates the pulse of our cities and without it, our beautifully mixed identity would be lost.
3. Describe your family! What are your favorite activities together?
Our family is very simple – our best moments are spent at home cooking or gardening. These are domestic highlights of my husband, Mark, and the kids really enjoy getting their hands dirty. Now that it's almost vacation time, I'm expecting a lot of biking, swimming, dancing, singing, painting plus riot inside the house! That means, there will also be a lot of cleaning. We just always try to have fun and make the most out of what we have. We also make it a point for them to spend a lot of time with their grandparents, cousins, titos and titas, especially when we go on mission trips for work. We want them to feel that they can always count on our bigger family to be with us.
The kids also love taking care the newest addition to our family, Ruki, our miniature dachshund. It's a fun way to teach them responsibility. It's not always easy but the joy they feel when they play together makes it worthwhile. They're growing up together and we're just so happy that they're nature and animal lovers.
As parents, we are very experiential, so whatever we want to teach the kids, instead of just telling them about it, we make them experience it. We try to bring them around the country so they can experience the beauty, the diversity, and even learn about the challenges of our country. We try our best to teach them to love and value our land and the work of our peoples' hands. We expose them to a lot of local products, art, and music. We bring them to most of the GK Villages that we go to. We leave them to be with the community, to play with the kids, and build lasting friendships with them. In the same light, it's also for them to understand our work. Although unconventional, we hope they get to appreciate and learn to love the service we do as well.
4. Why are you an R2R advocate? What are the R2R values that you resonate with the most?
Why not? Everything that I look for in a proud Filipino product is here – the quality is world-class, its heart is pure, and the family behind it is priceless. It's not very often that you come across a product that speaks to you in a very personal way. It stands for a lot of values that I personally fight for. As much as it has grown to be successful over the years, it's imperfections and challenges have grown with us too and somehow, it has made us feel like we were also part of their journey. It makes it very real and alive making it a personal experience for us too.
5. Complete the sentence (with words or even a paragraph!): Home is _____. 
Home is faith holding out its hand in the dark. Ay mali, hope pala yun. Haha!
Home is the warmth of a hug. It's a feeling that gives you comfort, hope, confidence, love, and joy all at the same time. It's bursting with fruit flavor, to borrow some of Ethan Hawke's words from Reality Bites.
6. In fashion and life, what are the principles you live by?
Simple does it.
I used to be a hoarder, I liked collecting a lot stuff and had trouble letting go. Because our family is in the manufacturing business, I had access to a lot of stuff and made it so much easier to hoard. Then I realized that 1) it creates a lot of internal noise and chaos (too many choices, too much stuff lying around) and 2) I only have one body, how many clothes and accessories can I actually wear at a time?
One day I just decided to zen my life. It felt good and liberating. Now I only stick to the basics and essentials. I just try to mix and match with a little creativity. We also encourage the kids to do the same, especially with their toys. For birthdays and holidays, we try to ask people to instead spend one day in a year (or more) with our kids instead of giving them more toys. Or whenever we get new stuff, we make sure we give away something else to make room for the new stuff. They only have one cabinet each for their toys and they just choose what stays in there. 
1 comment