Blog
The Women of Valore: Danella Yaptinchay
by Audrey Mae Ferriol on Apr 29, 2016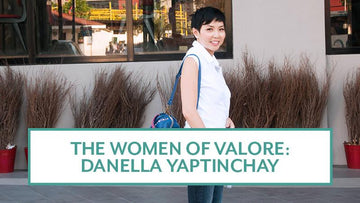 In the first two Women of Valore features with Issa Cuevas-Santos and Coco Cruz, we've talked about how important it is to live a life of values, intention, and meaning. We're all about valuing the things that matter and the people who fill our lives with so much love and joy – our families and friends and the simple moments we have with them. 
We're very lucky to be surrounded by awesome people who believe in the same sentiment and they're changing the world, not by compromising their values and the things they value, but by holding strongly onto them! For the Valore Collection, we've picked three of them to be advocates — all fitting women to represent this collection's meaningful story.
We're honored for you to meet and be inspired by them! Read about the last of our three R2R advocates for the Valore Collection: Danella Yaptinchay.
Danella has a background in hospitality, media sales, and journalism. Previously a globetrotter, she landed back in the Philippines a few years ago and has found her niche in the entrepreneurial scene here. She is currently the managing director of a services company providing back-end support to small businesses called called Full Suite. She's the co-founder of Homegrown, a media company aimed at supporting, empowering, and harnessing the power of Filipino start-ups. She's also the head of marketing and sales for Bridge Southeast Asia, a technology solutions provider for businesses. In constant pursuit of balance and self-development, she tries to apply the practices of yoga to her daily life.
1. Women are multi-tasking and we wear so many hats so well! If you can make your own title-in-life (hyphenate away!) what would it be?
Life long learner-global soul-yogi-entrepreneur.
2. What are your passions in life and why? You can talk about your company, organization, and advocacies!
I'm a big fan of learning in all forms — whether it's from friends or books or experiences or quiet activities like meditation. I think that people who have a natural inclination to grow themselves make the most interesting company. One of the ideas I've been absorbing recently is empathy. If each and every one of us developed just a little bit of empathy, the world would be a much better place.
I'm very fortunate to have developed empathy through my travels. I've lived in a number of places throughout the years and survived because of genuine interest in other cultures. Now that I live in the Philippines, I try to expose my colleagues to a global view on life and business because I want to raise the standards of professionalism not only in my company Full Suite, but in the country!
3. Describe your family! What are your favorite activities together?
My family is kooky — but aren't they all? I've got two sisters and a brother and our favorite thing might just be making each other laugh! The more uncontrollable the laughter, the better. Anything from practical jokes to dry puns. At one point, we all lived apart, in various cities around the world, but we've always kept it together. Our parents did a good job at raising us to appreciate and love each other through thick and thin.
4. Why are you an R2R advocate? What are the R2R values that you resonate with the most?
I believe that there are many ways to give back and show love to the culture that raised us. Filipinos come from all walks of life and I think R2R represents that through the communities that it supports along with the global markets that it's trying to reach.
5. Complete the sentence (with words or even a paragraph!): Home is _____. 
Home is where your dog is.
6. In fashion and life, what are the principles you live by?
Distill. Find your balance.