Blog
Who Made Your Bags? Meet the Workshop Artisans of R2R
by Audrey Mae Ferriol on May 03, 2016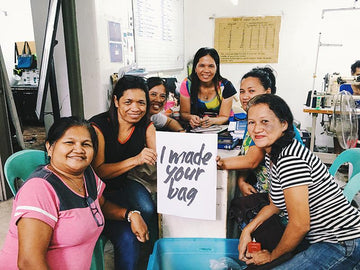 From the very beginning, our artisans have always been our partners in positive change and empowerment! The journey of R2R, after all, really started with them. It was through their amazing talent of weaving and this artistry's capacity to transform lives for the better that R2R became what it is today.
We're pretty sure you've met some of our artisans in our Weaving with the Weavers events or even in our stores –– yes, some of our store ambassadors are artisans, too! But we have a wonderful (but very elusive!) group of artisans we'd love to introduce to you. You don't get to see them often because these are our workshop artisans! They're the ones running our humble workshop, assembling your bags to perfection before they land in our stores.
In honor of Fashion Revolution Week, we're going to take you through our workshop and introduce to you the faces behind our production process! 
1. Nhing Estabillo, Workshop Supervisor
Ate Nhing started as an urban artisan from our Payatas community back in 2008 and since 2012, she's been in charge of our workshop's overall production, monitoring targets and making sure her team of amazing artisans creates high-quality bags and home items for you, our dearest advocates. 
UPDATE: Ate Nhing is now our Sales Ambassador! You can meet her in our showroom at the R2R HQ or in our stores.
2. Bernabe "Bing" Lor, Team Leader of Cutting
Kuya Bing, as we call him, is the lead of our workshop's cutting team. Cutting is the very first step in our workshop's production process! He and his team lays out the foundation of the bags by cutting and preparing the raw materials needed to make R2R bags. Once they're done, the materials then get passed onto the other steps of our production process!
3. Rufino "Jun" Gayanilo, Jr., Team Leader of Assembly
Kuya Jun leads our workshop assembly. Once all the raw materials –– from the handwoven fabric to the bags' hardware –– have been prepared, he and his team take all these different parts and put them together to build the R2R bags that you own and use today. 
4. Jimbo Zipagan, Team Leader of Sewing
Kuya Jimbo is our workshop's sewing team leader! He's in charge of the major and minor sewing of all our bags and home items. Even with that big of a responsibility, he's one of the people in the workshop who's always wearing such a huge and happy smile! It's SUPER contagious, we swear! 
5. Florencia "Fencia" Fonte, Team Leader of Quality Checking
Ate Fencia leads the workshop's quality checking team or QC, as we call it! They're the ones making sure that each and every bag is up to par with our standards of excellence. We don't just QC the pieces after it's done; we also check per stage so we see if each part of the bags were prepared properly, from the handwoven fabric to the cut leather. It's a very important step of our production process because we always want to deliver high quality pieces to you, our advocates. 
In R2R, we believe that fashion can be made in a safe, clean, and beautiful way and where creativity, quality, environment, and people are valued equally. That's why we think it's super important to ask the questions: #whomademyclothes, #whomademybags? Join the Fashion Revolution!
Save
Save
7 comments